Beltrami Electric Cooperative is owned by its members. The membership elects a Board of Directors to represent them in the operation of the Cooperative. The Board is comprised of nine member-directors, one from each district. Directors are elected to three-year terms according to the provisions in the bylaws. The directors establish policies and operational procedures, and meet once a month.
Click on the "more info" below each director's photo to view a short biography, contact info, and a map of the district area they represent.
Murl Nord - District 1 / Secretary
Board Secretary - Square Butte Director
Contact Number: (218) 835-6535
Originally from Bemidji, Murl graduated from Bemidji High School. He attended Bemidji State University, graduating with degrees in biology and chemistry.  Murl and his wife, Sue, owned and operated a dairy farm for 30 years and he now farms with his daughter, Rachel, grazing beef cattle.  Murl served 17 years on the Land O' Lakes corporate board, where he held the office of first vice president for five years and served on the executive committee for 10 years.  Murl also served eight years on the national Milk Producers Association board, three years on the Minnesota Association of Cooperatives board and 25 years on the Blackduck School Board.  He was also one of the early organizers of the Blackduck Co-op.  He resides in Hornet Township in Beltrami County and has two grown children and four grandchildren. He was first elected to the Beltrami Electric Board in 2010 and currently serves as secretary. Murl also serves on the Square Butte Board of Directors.
"I am a life-long supporter of cooperatives as a way of doing business. I believe my experience on other boards has given me a knowledge base that allows me to understand the workings of BEC.  I also have had numerous lobbying opportunities that are beneficial as our co-op faces many new government policy issues.  I have worked to continue my education in the broad area of electrification and recently became the first BEC director to receive the Board Leadership Certificate."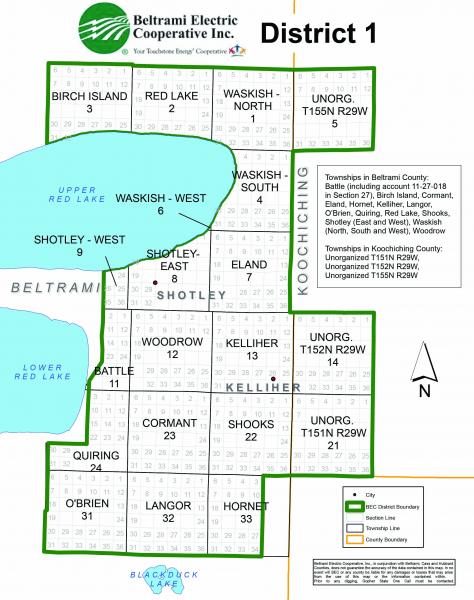 Charlie Perkins - District 2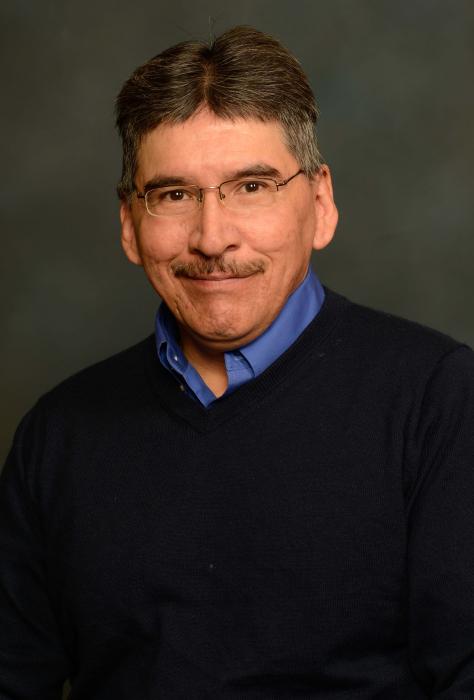 District 2 Director
Contact Number: (218) 679-2190
Charlie is a lifelong resident of Red Lake. He is a maintenance worker at the Red Lake Hospital, where he performs preventative HVAC maintenance, as well as various electrical work on items such as generators, high voltage circuits, power meters, etc. He is a graduate of Red Lake High School and completed the 2-year carpentry program at the Minnesota State Community and Technical College in Detroit Lakes, MN. He also attended Bemidji State University for Industrial Technology. Charlie enjoys spending time with his three children and two grandchildren. He also enjoys hiking, camping and target shooting.
"I am proud to continue in my family's footsteps, extending our commitment to the members of Beltrami Electric Cooperative. I have served on the Beltrami Electric Board for three years, My sister, Lea Perkins, has served on the board for twelve years, and previously my father, Ed Perkins, served on the board for eight years. I am passionate about my community, family and friends. I am able to utilize my 30+ years of knowledge and electrical experience to help educate and explain energy usage to our members. I will continue to work hard for the members of the cooperative, providing reliable and affordable electric service to our area."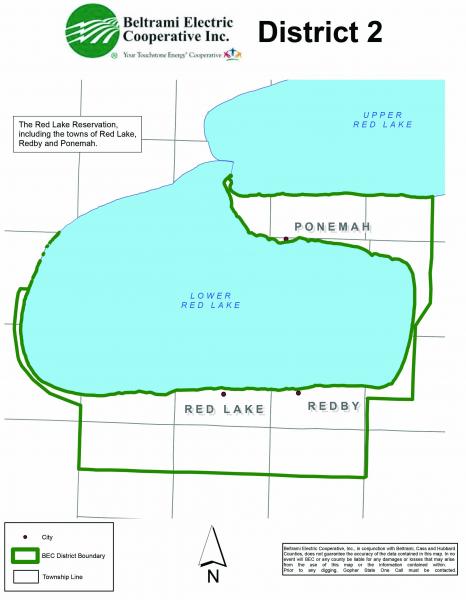 Charlie Parson - District 3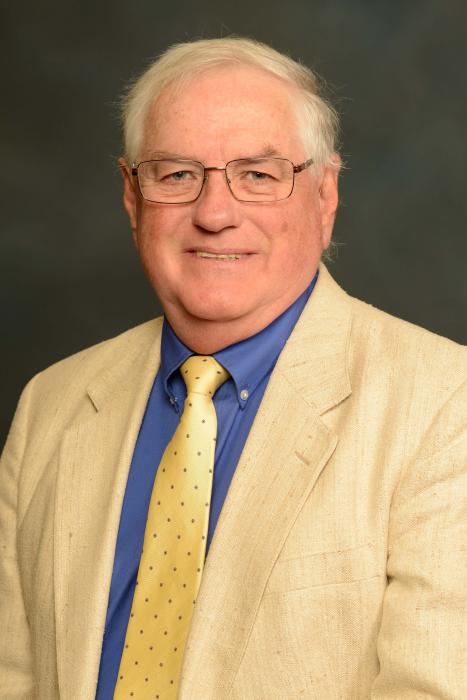 District 3 Director
Contact Number: (218) 243-2450
Charlie is a retired college professor, having researched and taught various aspects of geography, including climatology, hydrology, automated mapping, and land planning at Bemidji State University for 31 years. He holds a BS in earth science from Northern Illinois University, a MS in surface water hydrology and a PhD in alpine geomorphology from the University of Iowa. He is an active member of our community, volunteering with several organizations, including the Buena Vista Ski Patrol, Trout Unlimited and being a DJ on KBXE. Charlie has served on the board for Northern Community Radio, American Cancer Society, Ducks Unlimited, as well as many university committees and state level committees. He enjoys volunteering, especially in 5th grade classrooms for Trout Unlimited, and reading historical fiction and thrillers.  Charlie and his wife, Jill, have four children and four grandchildren.
"As a BEC board member for the past six years, I have taken courses to earn my Board Leadership Certificate so that I understand the needs of our cooperative, and to make sound decisions on behalf of the membership. I have always been aware of the challenges of delivering power to dispersed populations, and of the varied long-term investments necessary to deliver it affordably and with minimal environmental impacts. From my academic training I understand the implications of climate and geology on our utility's options for future changes in generation and delivery systems. I feel the most important issues facing the cooperative are maintaining our financial balance as changes are mandated to manage climate change, principally through reducing our carbon emissions. Secondarily, we need to provide for electrical options to direct fossil fuel-based transportation and home heating. Lastly, we must develop storage capabilities for our wind generation resources so that they can serve us when the wind doesn't blow. The same goes for solar power should we ever develop that at a large scale."
Craig Gaasvig - District 4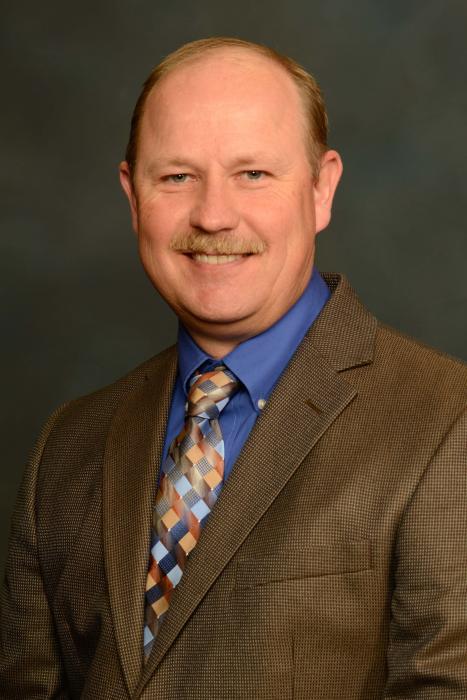 District 4 Director
Contact Number: (218) 586-5003
Craig has lived in the Bemidji area his entire life, of which the past 20 years have been in Port Hope Township.  He has been a regional account manager with North Country Business Products of Bemidji for more than 26 years.  Craig is a graduate of Bemidji State University with a bachelor's degree in mathematics, along with a secondary education licensure.  He also holds a power-limited technician license. He has served as supervisor of the Port Hope Township Board for 12 years.  Craig was a Ducks Unlimited committee member for 10 years, serving in many roles, including treasurer.  He also serves on the Bemidji Rural Animal Control Organization (BRACO) board, which is a group formed by townships to manage animal control outside of the city limits.  Craig is currently a Beltrami County Commissioner, representing District 1. Craig and his wife Karen have two sons, James and Jonathon. He is an avid walleye fisherman and enjoys hunting, fishing and traveling. 
"I take responsibility seriously. That means I show up on time or early for meetings, having studied the material ahead of time to make informed decisions in the best interests of our members. I have served over three years on the BEC board and have only missed one board meeting. I genuinely care about the people and the area we live and I look forward to continuing to serve you, the members of the cooperative. I will work to keep our mission statement as my directive: To provide excellent value to our members through the safe delivery of reliable electric service, excellent member service and innovative energy solutions at fair and reasonable prices."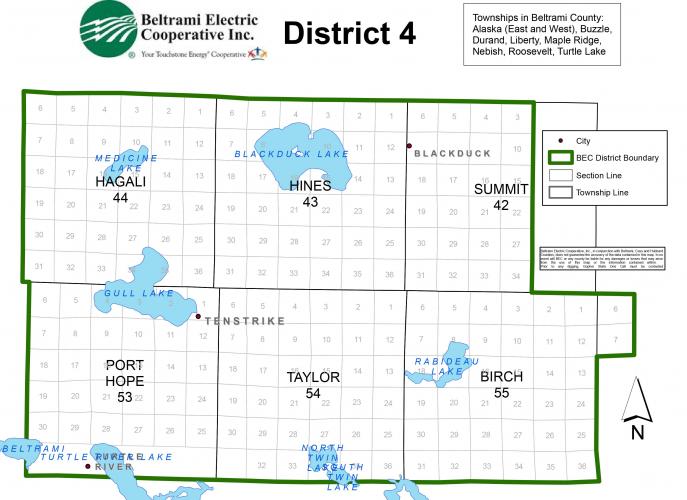 Robert Wallner - District 5
District 5 Director
Contact Number: (218) 835-6579
A member of Beltrami Electric for 42 years, Robert Wallner has been a general practice attorney in Bemidji for 41 years and raised beef cattle with his family for 36. He earned his bachelor's degree in economics and business from Bemidji State University and followed that with a law degree from William-Mitchell College of Law in St. Paul, Minn. He and his wife Roxy have five children and 4 grandchildren. In his spare time, Robert enjoys hunting, fishing and trapping, along with harvesting wild rice and collecting maple syrup. He also participates on the Bemidji Sr. Hockey team and enjoys working with his livestock and training his Labrador retrievers. Robert also serves on Moose Lake Town Board.
"My experience operating a small business, along with my partners, involved long and short range planning, meeting payrolls, managing accounts receivable/payable, budgeting for business operations, and dealing with employee relations. My experience with our cattle operation has taught me the importance of having a strong electrical coop to depend on.  The last six years on the BEC board of directors, along with the Board Education classes I have attended, have helped me to understand the electric business in general, and our co-op specifically."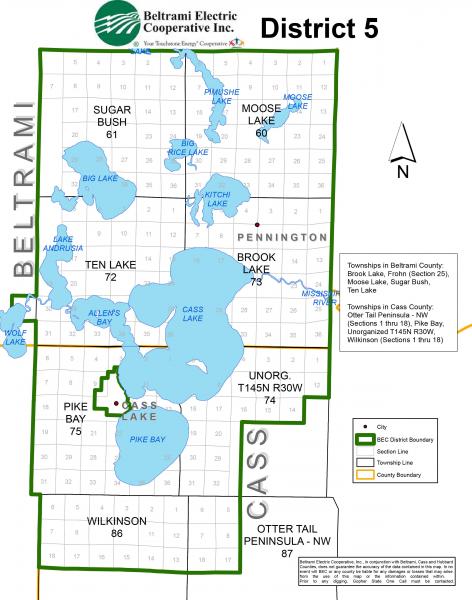 Rick Coe - District 6 / Minnkota Director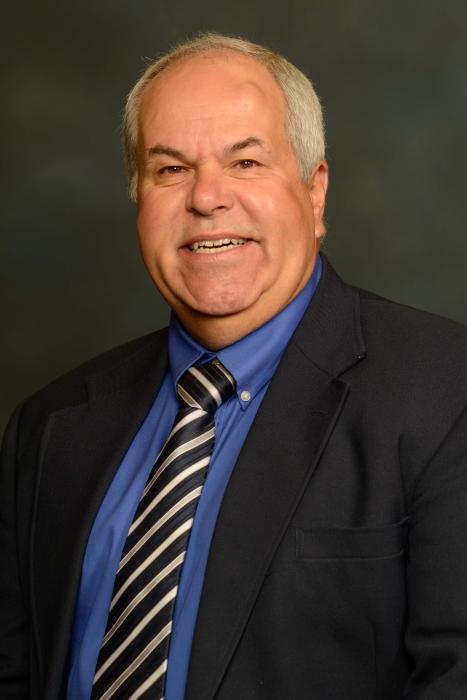 District 6 Director
Contact Number: (218) 751-9695
Rick has lived in the Bemidji Area for 47 years and resides in Northern Township. He has been a member of Beltrami Electric for more than 37 years.  Rick retired from the Bemidji Public Schools where he was employed as a teacher, counselor and coach. Coe has a Bachelor of Science degree in biology and general science and holds a Master of Science degree in guidance counseling from Bemidji State University.  For 31 years he coached all levels of youth hockey and baseball and has also served as a board member with these sports.  Rick has been active in various committees within the Bemidji community and at his church. Rick is also a member of the Knights of Columbus and has served on the KC board. He has served on BEC's board for District 6 since 2008 and served as the board chair from 2011-2020.  He and his wife, Mickie, have three grown children and three grandchildren.
"I have served as a Director of Beltrami Electric Cooperative for 12 years. I also serve as a Director on the Minnkota Board (our generation and transmission co-op) and the Minnesota Rural Electric Association (MREA-our statewide co-op).  I have gained a great deal of knowledge and experience from serving on these Boards.  I care about our members and feel they deserve great service not only from BEC, but especially from the Board of Directors. I promise to be visible and reachable to serve BEC's members to the best of my ability.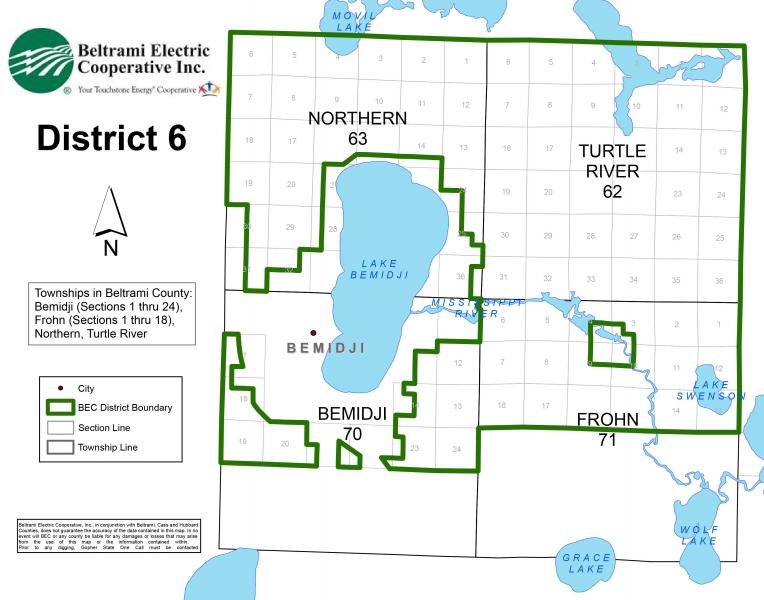 John Lund - District 7 / Chair / CDI Governor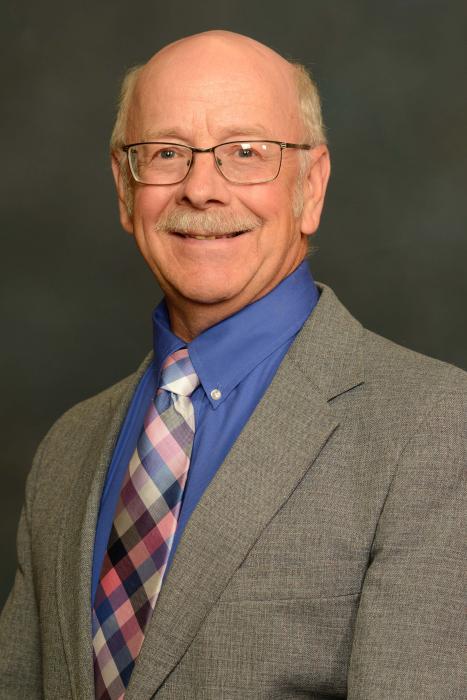 District 7 Director
Contact Number: (218) 751-2784
John is a life-long resident of the Bemidji area, and holds a BS in industrial technology from Bemidji State University. John and his wife, Mary, have lived in District 7 for the past 21 years, and have three daughters and four grandchildren. John is a self-employed carpenter and installs kitchen appliances. John has served on church boards and councils, served two terms on the Beltrami County Board of Commissioners and has served on the Beltrami Electric Cooperative board of directors for the past nine years and currently serves as the board chair. John enjoys cross country skiing, riding bicycle, walking, and staying active physically, mentally, and spiritually.
"The nine years of service on the Beltrami Electric board of directors has given me the experience needed to represent the members of our cooperative. I have attended a number of educational classes offered by the Minnesota Rural Electric Association (MREA) and the National Rural Electric Cooperative Association (NRECA) and received the Board Leadership Certificate and the Director Gold Certificate from the NRECA. These courses keep me informed on the changes within the electric industry and help me learn more of the duties and responsibilities of becoming a better electric cooperative board member. I feel the most important issue facing our cooperative is to continue to provide economical and reliable electricity to our members, while keeping the balance sheet strong, both now and into the future. Secondly, as more new technologies are added into the grid, (i.e.) solar, wind, battery storage, and electric vehicles (Evs), my belief is that we will continue to need our coal fired baseload generation (with the possible addition of carbon capture), so that we can continue to provide power to our members when other generating sources are not producing or available."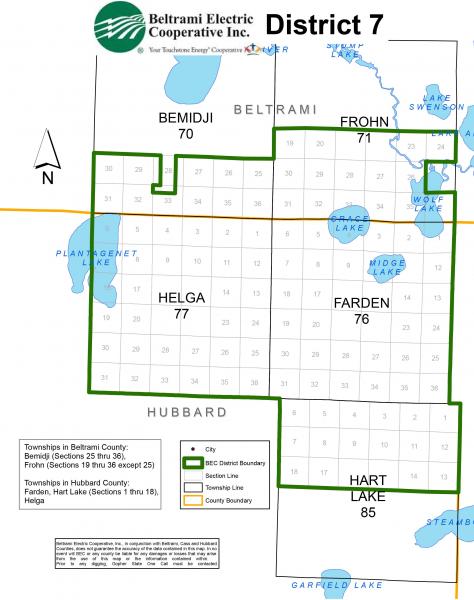 Sue Kringen - District 8 / Vice Chair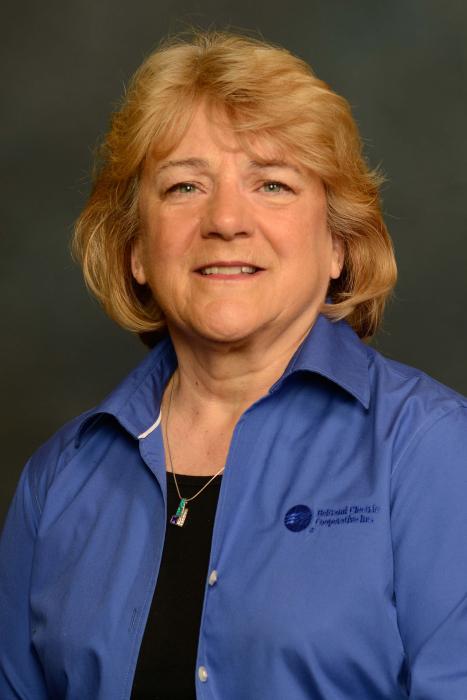 District 8 Director
Contact Number: (218) 333-0859
A native of Bemidji, Sue received her bachelor's and master's degrees from Bemidji State University. She retired from Riverwood Bank of Bemidji where she served as the director of sales and marketing.  Prior to that, Sue served as director of alumni relations and senior director of development for the Bemidji State University Foundation. Sue also served as the first full time executive director of the United Way of the Bemidji Area.  She has served on the boards of directors for the Bemidji Area Chamber of Commerce, Bemidji Youth Hockey, Bemidji Gymnastics Club, the Salvation Army, the Bemidji Rotary Club, Lakeland Public Television and the United Way of Bemidji Area.  Sue has been a member of Beltrami Electric for 40 years.  He has served on BEC's board for District 8 since 2016 and currently serves as the vice chair. She and her husband Curt, reside in Fern Township in Beltrami County. They have two grown children and two grandchildren.
"It has been a true honor and privilege to serve on the Board of Directors for Beltrami Electric Co-op over the past three years.  I have and will continue to challenge and educate myself on issues and opportunities relating to governing and guiding YOUR electric cooperative and I take great pride in now being certified as a Credentialed Cooperative Director."
Judy Honer - District 9 / Treasurer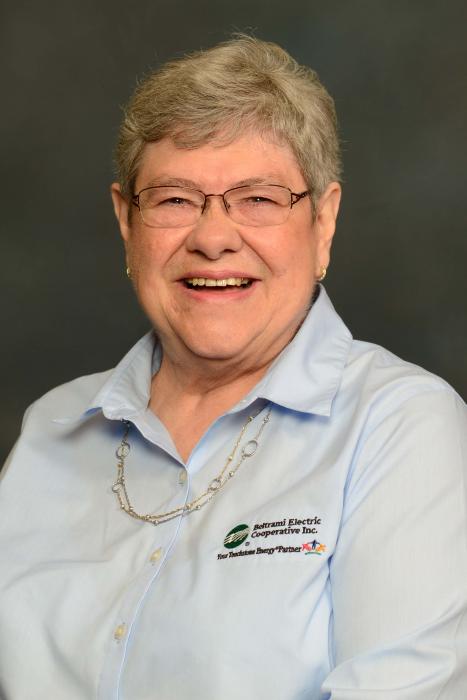 District 9 Director
Contact Number: (218) 224-2732
Judy Honer was first elected to the Beltrami Electric Board of Directors in the spring of 2009.  She currently holds the position of Treasurer. She graduated from St. Benedict's High School in St. Joseph, Minn.  Judy worked for Northern States Power in St. Cloud for five years prior to moving to Laporte in 1979. She worked for Essentia Health in Walker for 22 years and is now enjoying retirement.  Judy and her husband John have two sons, Cory and Kurt, two grandchildren and three great-grandchildren.   Judy enjoys knitting, making greeting cards with pressed flowers and spending time with her great grandkids.
"I feel that my 9 years of experience on the Beltrami Electric board has given me the ability to make sound decisions that are in the best interest of the cooperative and its members.  I am familiar with the work that happens behind the scenes in order to provide reliable electricity to our members, so it's there when you flip a switch. I feel the most important issue facing our cooperative is working to keep the rates low. I also feel it is important to be accessible to the member-owners to answer their questions, as well as to help everyone understand how important the rural electric is to each of us as members."