A BENEFIT OF CO-OP MEMBERSHIP
Capital Credits
It PAYS to be a member-owner of Beltrami Electric! Earning and receiving capital credits is just one of the membership advantages of receiving electric service from Beltrami Electric Cooperative.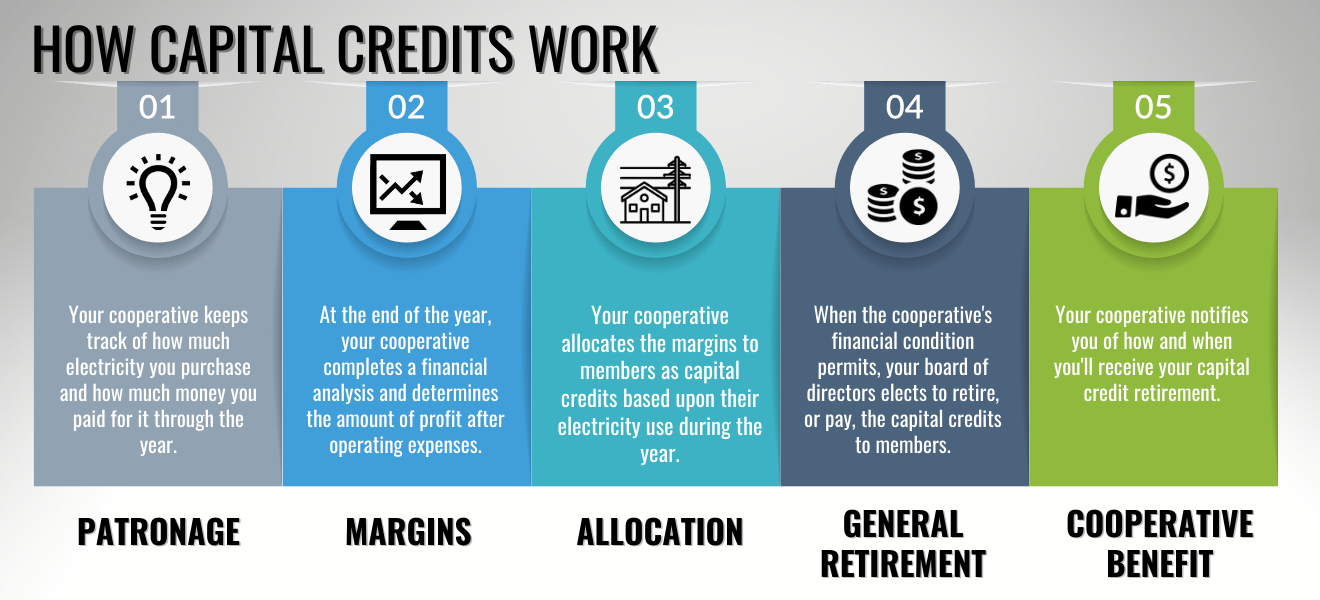 Unclaimed Capital Credits
In spite of our efforts to maintain current addresses for past members, some capital credit checks are returned to Beltrami Electric by the postal service without a forwarding address.  Beltrami Electric holds the unclaimed property and makes several attempts to locate the past member by publishing names in our newsletter, providing a search function on our website, and by completing research to find updated addresses.
If a past member cannot be located, the unclaimed capital credits are presumed to be abandoned and must be turned over to the state of the last known address.  Each state has different laws for reporting abandoned unclaimed property.  If the last known address for the past member is a state other than Minnesota, the past member may claim their capital credits by going to the website https://missingmoney.com.  If the last known address was the state of Minnesota, the property is considered abandoned after 7 years from the date of issue and distributed to tax-exempt organizations.
If you are a past member and have found you have unclaimed capital credits by using the search function, please contact our office at 218-444-2540 or 800-955-6083 or send us a message via email at info@beltramielectric.com to claim.
Capital Credits Frequently Asked Questions
Capital Credits are retained margins at the end of the year that are distributed or allocated back to the member-owners of Beltrami Electric. Allocated capital credits aren't payable to the member right away because the cooperative uses them as a significant source of equity to help pay operating costs and secure loans.  They are eventually paid to the member as long as the financial condition of the cooperative is strong!
Member-owned, not-for-profit electric utilities like Beltrami Electric set rates to generate enough money to pay operating costs, make payments on any loans and pay for wholesale power. At the end of each year, the expenses of the cooperative are subtracted from the total amount of revenues collected throughout the year and the remaining balance is called a "margin."
Margins are allocated to members as capital credits based on their purchases from the cooperative—how much power the member used. Member purchases may also be called patronage. 
Once a year you may receive notification of an allocation on your bill statement.  The notification is an informational notice to let you know about your share of the capital credits that will eventually be paid to you when a general retirement is issued by the board of directors.  An allocation represents your share of ownership in a nonprofit, member-owned cooperative.
Each year, the Beltrami Electric Board of Directors makes a decision on whether to refund capital credits based on the financial health of the cooperative. During some years the co-op may experience high growth in the number of new accounts added or severe storms may result in the need to spend additional funds to repair lines. Both events might cause the board to defer any capital credit refunds. For this reason, BEC's ability to return margins to members in the form of capital credits reflects the cooperative's strength and financial stability.
Doing so follows one of our seven cooperative principles—Members' Economic Participation. This principle states: "Members are allocated surpluses for any or all of the following purposes: developing the cooperative, possibly by setting up reserves and benefiting members in proportion to their transactions with the cooperative; and supporting other activities approved by the membership."
No. Capital credits only exist at not-for-profit electric cooperatives owned by their members.
Capital credits are tax free if the property served by Beltrami Electric was used strictly as a residence.  If the residence was used for business purposes, members should contact their tax advisors.
Capital credits can be paid out in an accelerated retirement to settle an estate. If the estate representative elects to take an accelerated retirement of the capital credits, the calculation for the retirement is based on the net-present value of money. The Cooperative has determined this procedure to be fair for our membership as a whole, since the rest of our members must keep their capital credits invested in the Cooperative until they are retired during a general retirement.
If a check is received that was issued to a deceased member, in a joint name after a divorce, or any other incorrectly issued check, please contact our Member Service Department at 218-444-2540 or 800-955-6083.  You will be asked to provide identification or legal documentation to prove your representation of the estate or record in an effort to resolve the issue.
Unclaimed Capital Credit Search Heading
Type your LAST NAME in the search box below to see if you have unclaimed capital credits.